Accreditation and Data Governance
We know: Certification systems seem complex to those who don't live and breathe them. That's why we don't just provide certification services – we take the time to communicate our findings in a way that's meaningful to our customers, helping them create a real impact.
We ensure the quality of our work is independently verified and that we live up to the highest standards of data governance, fully protecting your data while leveraging its value for you.
Certification
Formal procedure of confirmation, by which an authorised person or agency assesses and verifies the attributes, quality, qualification, status of …
Close
Impact
Any effects arising from an intervention or action. This includes immediate short-term outcomes as well as broader and longer-term effects and …
Close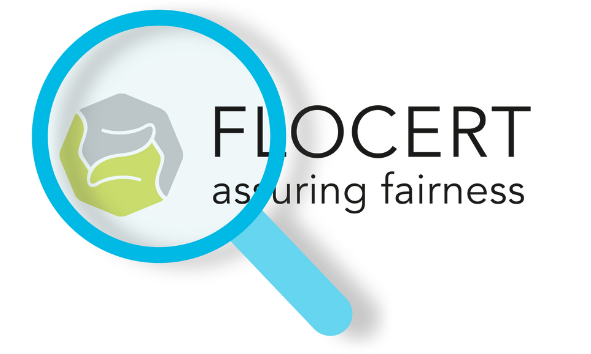 We are audited, too!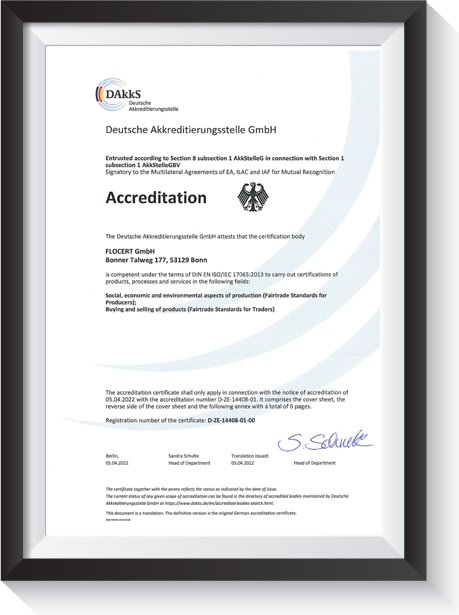 At FLOCERT, we practise what we preach.
Since 2007 we've been accredited against ISO 17065, the internationally recognised ISO norm for product certifiers. Furthermore, Fairtrade International oversees our activities as Assurance Provider. Seeking independent verification of our own quality ensures we're continually strengthening our organisation and staying true to our vision. It demonstrates how committed we are to leading the way in Fairtrade Certification.
To remain accredited, we are annually audited by both the German national accreditation body, DAkkS, and by Fairtrade International, who audit us at a frequency defined in the Fairtrade International Oversight Procedure.
External auditors verify that:
we apply the processes defined for the accredited schemes,
our audit findings and certification decisions are made impartially, based on rigorous evaluation,
our staff and auditors are adequately skilled,
the certificates we issue can be trusted by everyone in the Fairtrade market,
we treat all our customers equally,
our processes are transparent,
we are always open to feedback on our services and decisions,
we have a quality management system in place to constantly monitor and improve our services.
ISO 17065 accreditation
We are accredited against the ISO 17065 norm for the "social, economic, and environmental aspects of production (Fairtrade Standards for Producers) as well as for aspects of buying and selling of products (Fairtrade Standards for Traders)". The assurance schemes of the following Fairtrade Standards are covered by the accreditation, including the respective Product Standards:
While it is our policy to become ISO 17065-accredited for all Fairtrade Standards, the accreditation has not yet been extended to the Fairtrade Standards for Precious Metals, Climate and Textile.
Authorisation as Assurance Provider for Fairtrade International
Fairtrade International conducts oversight of our activities as Assurance Provider. This includes annual reporting on defined parameters (such as conducted audits and granted exceptions) and an assessment of compliance with the Requirements for Assurance Providers as defined in Fairtrade International's Oversight Procedure – consisting of a combination of self-assessment, desktop surveillance assessments and onsite assessments.
What this means for our daily processes:
Our accreditation is vital to our reputation and for our authorisation as Assurance Provider for Fairtrade. That is why we have systems in place to make sure that we always comply with ISO 17065. Here are some of the ways we integrate ISO 17065 into our everyday processes:
Impartiality: Impartiality in our operations is one of our key assets. We have a unique governance system and an independent financial structure, to ensure our certification always remains impartial. When things don't turn out as planned, our fair appeals, review and complaints processes ensure that all customers are treated equally. Furthermore, our independent Impartiality Committee takes a key role in reviewing how FLOCERT manages conflicts related to impartiality.
Competence: In pursuit of excellence at all times, we continuously train our auditors and assurance staff to an exceptionally high standard. Those that are ready to audit are given ample time to conduct professional evaluations, using best practice methods and world-class social audit techniques.
Information Management: Our state-of-the-art IT application systems are in place to guarantee that our interactions with customers are always confidential. The information records we gather during audits and certification processes are handled carefully, and targeted documents help our staff gather and access information easily. All these documents are strictly monitored via a document control system.
Quality Improvement: We're continually reviewing and improving our processes and performance using feedback loops and internal audits. Our highly qualified auditors and staff actively participate in improving our systems.
Data Governance
The safe use of data is paramount for FLOCERT: we even have a dedicated data governance team to help ensure that the right decisions are made when it comes to the management and protection of data.
Comprehensive data governance leverages the value of data for our digital transformation. To achieve this, here at FLOCERT we consider data as assets which we actively manage from different perspectives.
We ensure that data is defined and properly governed by:
following business processes and policies to safeguard data all the way from collection to deletion,
working with it in a fully compliant and legal way, where only authorised people have access,
ensuring we have the best data quality possible,
transforming data into valuable information in a state-of-the-art business intelligence infrastructure, sharing insights with our customers and stakeholders.